Wirify is available in two versions: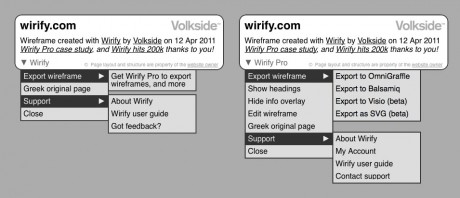 Wirify and Wirify Pro menu items
About Wirify Pro
Wirify Pro has all the great features of the free version, and more:
» View and download example wireframes exported using Wirify Pro
» Read a case study on how one of our customers is using Wirify Pro to speed up their website redesign project
Once you have purchased Wirify credits you get your own personal Wirify Pro bookmarklet and access to Wirify Manager, where you can view previously exported wireframes and your account details. See Wirify user guide for details and help.
About Wirify credits
You can purchase Wirify credits here
Each Wirify credit lets you export one (1) Wirify wireframe as a downloadable Visio, OmniGraffle, Balsamiq Mockups or SVG document
You can use Wirify Pro as long as you maintain a positive balance of active Wirify credits i.e. minimum of one (1) credit
Wirify credits are non-refundable and valid for three (3) months from purchase.
Please visit the Buy Credits page for current pricing. All amounts are in Australian Dollars (AUD).
Buying Wirify credits is a one-off purchase, not a subscription, and you will not be billed again. You can purchase additional credits at any time.
All purchases are subject to the terms of service (including refund policy) so please read these carefully.
Wirify Pro wireframe export – Video overview
The following video shows how you can export a fully editable wireframe into OmniGraffle using Wirify Pro:
Note: This video shows an early pre-release version of Wirify Pro.
Read more: Preview: Exporting Wirify wireframes to OmniGraffle
What's Visio?
Microsoft Visio is a vector-based diagramming program for PCs running Microsoft Windows. It's popular among businesses and widely used in corporate and enterprise environments. Although Visio is a general-purpose diagramming tool, many professionals are using it successfully for creating wireframes.
What's OmniGraffle?
OmniGraffle is a premium diagramming, charting, and visualisation software for Mac OS X from The Omni Group. We recommend OmniGraffle Professional edition for best results with exported Wirify wireframes. You can download a 14 day trial version here.
What's Balsamiq?
Balsamiq Mockups is an easy-to-use rapid wireframing tool from Balsamiq. Balsamiq Mockups is built using Adobe AIR and runs on Windows, Mac and Linux platforms. It is affordable and you can download and try the Desktop version before you buy.
Balsamiq Mockups 3 update: Please use the Project > Import > BMML Mockups… function to open Wirify wireframes.
Balsamiq Wireframes 4 update: Unfortunately

Balsamiq Wireframes 4 no longer supports the original BMML file format.

Please use Balsamiq Mockups 3 to import BMML files generated using Wirify Pro.
What's SVG?
Scalable Vector Graphics (SVG) is a highly versatile XML-based file format for describing two-dimensional vector graphics. Wirify wireframes exported as SVG can be stored, viewed and edited on a number of different platforms, including Sketch (fully editable), Adobe Illustrator (fully editable), Inkscape, and most modern browsers (view only).
This page last updated on 30 Nov 2021