This page lists the release notes for each Wirify version.
Wirify 1.7.1 (20 Apr 2011)
Summary: Export to Microsoft Visio and SVG using Wirify Pro
Related blog post: Export your wireframes to Visio and SVG using Wirify Pro
Wirify 1.7 (12 Apr 2011)
Summary: View and export headings using Wirify Pro
Wirify free and Wirify Pro:
Revised z-order of page elements: interactive elements are shown over images, and headings are always on top
Process contents of the largest iframe instead the parent page itself on certain websites (e.g. Gmail)
H5 and H6 headings are now included in the wireframe along with the original H1..H4
Removed 'www.' prefix in the information overlay title
Reorganised Wirify menu.
Wirify Pro only:
Attempt to intelligently extract heading text, also when using Cufón text replacement
Headings are exported in either black-on-white (when shown) or gray-on-gray (when hidden)
If using Balsamiq Mockups you need to install BalsamiqMockups.cfg to correctly display headings with Unicode characters
Page editing is now enabled on Internet Explorer and works in IE9; IE7 and IE8 have known issues.
Related blog post: Update: View and export headings in Wirify wireframes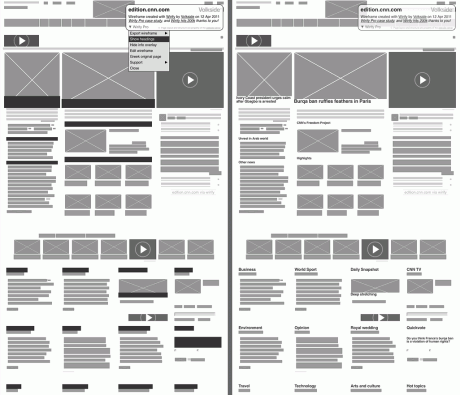 Source: CNN International
Wirify 1.6 (7 Mar 2011)
Summary: Wirify Pro with Balsamiq Mockups export, revised pricing
Related blog post: Update: Balsamiq export & revised pricing
Wirify 1.5 (22 Feb 2011)
Summary: Wirify Pro with OmniGraffle export and Wirify.com launched
Related blog post: Wirify Pro and Wirify.com launched
Wirify 1.4 (unreleased)
Summary: Internal development version leading to Wirify 1.5
Wirify 1.3 (13 Jan 2011)
Summary: Improved rendering of overflow elements, show time taken to wirify page
Improved rendering of overflow elements such as image carousels
Show time taken to wirify the page in version tooltip — hover over the copyright text to view
Added link back to original web page in the copyright statement
Changed information overlay heading level to prevent styling clashes with original page
Optimised all visual assets
Related blog post: Preview: Exporting Wirify wireframes to OmniGraffle
Wirify 1.2.1 (6 Jan 2011)
Summary: Separate images and interactive elements
Separate images (crossed box for img and canvas) and interactive elements (player symbol for object, embed, iframe and video), see example below (hat tip to Noel and Erik Olson)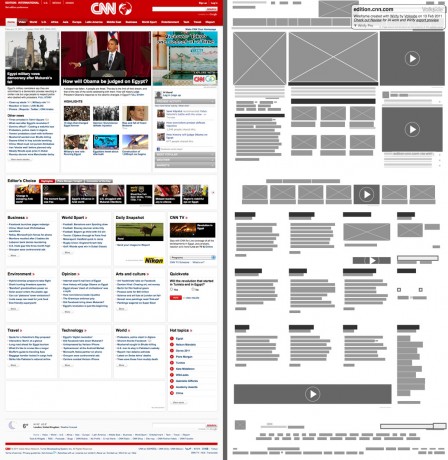 Wirify: Separate images and interactive elements. Source: CNN International
Related blog post: Wirify January update
Wirify 1.2 (5 Jan 2011)
Summary: Movable information overlay, Opera and IE improvements, visual symbol in bookmark title, watermark
Allow dragging information overlay around and slightly outside the screen, using jQuery UI
Added small watermark on bottom right
Select boxes are now wirified similarly to other input elements
Display help message when trying to wirify a blank page
Display error message when wirifying is unsuccessful
Improved performance and accuracy on Opera and Internet Explorer
Improved information overlay title for local files
Added a visual symbol to the Wirify bookmarklet link
Re-wirify page when invoked again after browser window has been resized
Open information overlay links in a new window
Improved analytics, log Wirify version information
Exclude elements smaller than 5 x 5 pixels
Related blog post: Wirify January update
Wirify 1.1 (20 Dec 2010)
Summary: First public release
Related blog post: Introducing Wirify: The web as wireframes
---
This page last updated on 5 May 2011